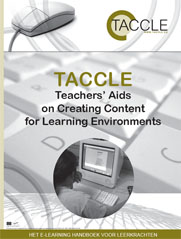 The TACCLE book is one of the major outcomes of this project. It isavailable in English and in several other languages.
Download it by clicking this link.
The other languages versions are available in the download area of this website.
A printed version of the book is available. If you want to receive a complementary copy please contact Jens Vermeersch
This book is written for classroom teachers who want to know more about e-learning and who would like to experiment with designing e-learning material to use in their own classrooms. It is primarily targeted at secondary teachers but there is no reason why primary school teachers and adult education teachers should not find it useful too.
The other group we had in mind were those of you still undertaking initial teacher training. Although there are some exemplary courses, a depressing number of trainee teachers continue to arrive in the classroom having barely heard the words 'e-learning', still less have hands on experience of it.
The content of the book is also available on our wiki for registered users. In this way we hope we will be able to get the book updated with your help.
This is the tagg cloud of the book (made with wordl.net):